Today, I visited the
Kenan Research Center
in Buckhead (Atlanta), which is part of the Atlanta History Center. I'd never been to the library before, though I've been to the History Center Museum and historic houses a number of times. From searching WorldCat and Google Books, I had found a number of books that I wanted to see that are located at the Kenan library. Before going in, I also searched their
online catalogue
to look for additional books and resources. One of those is
Garrett's Necrology
, which I had been meaning to view for some time.
So this morning I went over to the Library. The traffic in Buckhead is evil - pure evil - just like always. Once at the Altanta History Center, I parked in the deck that's used for the museum. The building for the library is just to the right of the museum, with multiple signs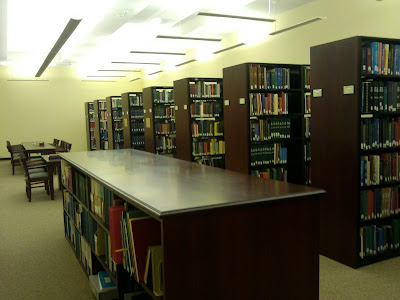 point the way. Once inside the building, I asked for further directions at the desk and headed into the library. I signed up for a research card at the front desk and verified that I'd read the policies. Then stored my purse and "banned items" in a free locker. I took my computer and cell phone with me.
Inside the library there are (at least) three areas: the Reading Room, the Microfilm Room, and the Genealogy Room. Thanks to the dewey decimal system, this library was set up just like any other, aside from the fact that all books of genealogical importance have been placed in a separate room (as shown in the photo). I browsed the books for Georgia and South Carolina that I had been looking for, as well as others that I found along the way. I didn't make any great discoveries, though I did find some interesting facts on a few relatives and made copies of some of the information.
I also browsed the microfilm selection. They had the
Atlanta Journal-Constitution
, as well as some other small Atlanta papers. There were also Fulton County marriage licenses and random records from other counties. I finally got to browse the Garrett Necrology, which has an index online. Although I was disappointed to learn that the records I was interested in were not for my relatives, it was nice know that I could now disregard those.
So overall not an earth-shattering day of research. However, it's nice to have been able to look at some books and records that I've wanted to look at for a while now. Personally, it was something of a good thing for me - I dread doing new things and going new places on my own. But, that's what I did today and it wasn't the end of the world. :)